The Children's Centre originated out of the desire of women to create a better learning environment for their children.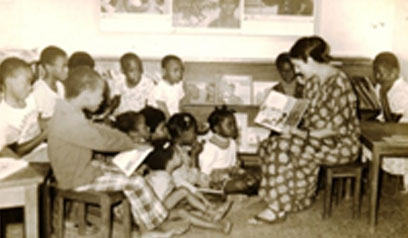 In the late 1970s a group of young mothers at the University of Nigeria saw the need to help children develop their full potential by providing a broad range of educational and recreational resources. The project was adopted by the University Women's Association and developed on a voluntary basis by a committee of women in relevant professions.
The initial focus was on the promotion of voluntary reading. As a result, the library opened as the first component of the project on October 17, 1978, during the National Library Week. Located in a small room loaned by the Department of Health and Physical Education, the library was kept open in the early years through the voluntary service of members of the Children's Centre Library Committee.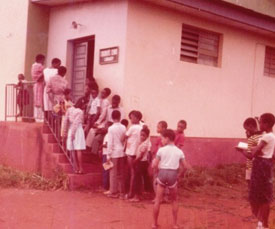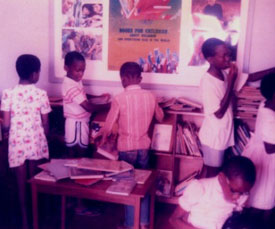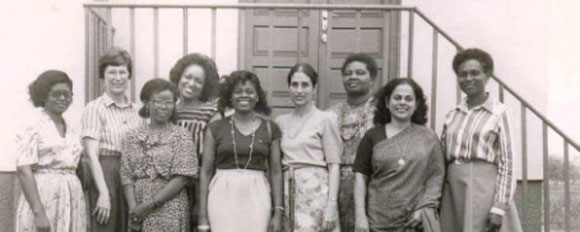 International Year of the Child - 1979
Activity programs began with a Children's Festival in the International Year of the Child, 1979. This featured an exhibition of children's art, poetry and self-made toys; talent night of drama, music and dance; and children's book fair. The Centre also celebrated the International Year of the Child by initiating playground development in 1979.
Opening of The playground - 1980
The playground was opened at the original site and the project launched on December 12, 1980 as part of the University of Nigeria's 20th anniversary celebrations. Governor Jim Nwobodo of Anambra State performed the opening ceremony and donated funds for fencing and grounds development.
Donation of a 15-seater bus - 1981
In May 1981 Prince Albert Koripamo, a university alumnus, delivered a 15-seater bus and provided a book grant to develop the library. Vacation activities, a prominent feature of the Children's Centre program over the years, began in 1981 with a series of excursions.
Long vacation programs - 1985
Full-scale vacation programs began in 1985 with art and cookery classes for juniors and seniors, excursions, drama, teenage forum and a junior day camp.
Donation of The Permanent Facility - 1986
In 1981 Chief E. C. Iwuanyanwu offered to build the permanent facility, using a plan donated by Arch. Sandor Peri. During the University's Silver Jubilee celebrations in 1986, Chief Iwuanyanwu handed the completed building over to the University as part of the alumni's contribution to the endowment fund.
Move to Madam Hulder Iwuanyanwu Building - 1987
Early in 1987 the library and vacation activities moved to this new and spacious facility. The building was named in loving memory of Madam Hulder Iwuanyanwu, the mother of the donor, at a ceremony held in January 1992.
Relationship with Library and Information Science - 1988
Meanwhile, a mutually beneficial relationship had been developing between the Children's Centre Library and the young Department of Library Science (now Library and Information Science). In 1988 the University formalized this relationship, whereby the library serves as teaching laboratory and research resource for the department while the department provides professional and administrative assistance.
Outreach to Schools - 1988
Expanded facilities and resources made it possible to extend services beyond the immediate university community. In cooperation with the Department, the Children's Centre began reading promotion activities, such as story hour and book sharing, in primary and secondary schools.
Reaching out to Special Groups
Children's Centre also began reaching out to the local Motherless Babies Home with regular visits, donations, and provision of additional staff. In 2000 the Centre initiated library service to the local prison, since extended to prisons in Anambra State. Also in 2000, Psycho-Educational Testing Services were introduced for children and youth with special needs.
Silver Jubilee - 2004
The Children's Centre celebrated its 25th Anniversary on May 12-13, 2004. The anniversary began on May 12th with an afternoon of entertainment by the children from the Children's Centre and nearby primary schools. In the evening the founding mothers and other old friends of the Centre were honored at a Founders' Day dinner.
The Silver Jubilee Celebration on May 13th was attended by numerous friends of the Children's Centre, including Chief (Dr.) E. C. Iwuanyanwu and his wife, Lady Eudora Iwuanyanwu, along with many friends; Prof. Ebele Maduewesi, a Founding Mother and Chair of the occasion; Dr. Uche Azikiwe and the daughter of the late Alhaja Gambo Sawaba, honored for contributing to the empowerment of women.
Vacation Programs
Activities continue to fill the Children's Centre calendar during August-September and occasionally during the Easter holidays. These have been organized by committee members with strong assistance from Youth Corpers, students of AIESEC, and other friends and resource persons.
Among the favorite activities continue to be excursions (to the space center, computer and home science laboratories; National Museum, media stations and airport at Enugu; National War Museum at Umuahia); computer training; arts and crafts; (such as bead jewelry making, tie-and-dye and batik textile techniques, cardmaking, hat making), cooking and baking; performing arts (such as dance, singing, and drama); creative writing and literacy development; debates; talks (on such subjects as leadership, map reading, HIV/AIDS, safety, and personal hygiene); and sports.
Outreach to Schools
Provision of library and information services to selected primary schools in the Nsukka area has been an area of emphasis. From early reading promotion activities, the Centre began exploring the use of local community resources to develop information literacy (See Dike and Amucheazi in Publications).
From this evolved efforts to develop primary school libraries (assisted by book donations from PULA). This culminated in a Best School Library Competition held in Nsukka Local Government Area in 2012-13.
Concern that these libraries be used effectively led to cataloging and library use workshops and development of a curriculum teaching library and information literacy skills through library periods
Outreach to Prison Libraries
Children's Centre has continued support for the Nsukka prison library it initiated in 2000, through donations of books and infrastructural renovation and organizational assistance. From 2005 these efforts spread to Anambra State, with the founding of the Awka prison library. This has led to research into the information needs and library use of inmates in the two prisons.
Children's Centre has cooperated with the Libraries for Literacy Foundation & Department of Library and Information Science in mounting workshops on developing creative and information skills through comic book writing. This is an ongoing program at Nsukka; in October 2017 a trainers' workshop was held in Awka as prelude to introducing these skills in the 4 prisons of Anambra State.
Special Events
Special events are often organized around occasions like Children's Day, Nigerian Independence, Christmas, World Book Day and the International School Library Month (ISLM). (See Programs) These events often involve schools from the greater Nsukka area participating in dramatic or dance presentations and essay or quiz competitions, such as this drama on kidnapping. Special events also include workshops and symposia for students, teachers and other members of the community; examples are a symposium on "Growing up responsibly" for secondary school youth, workshops on comic book writing and other techniques for enhancing literacy, and preventive health check-ups and lectures on reproductive health.
Children's Centre Celebrates 40 Years, 1978-2018
The 40th Anniversary was celebrated with schools from all over Nsukka in a colorful occasion on April 5, 2019. Thirteen schools from Nsukka Urban, Agu Achara, Onuiyi, Odoru came with a dance or drama, while the University of Nigeria School led off with the Children's Centre song. Prizes were given to the best entries in the essay competition on "The book I like best." Commemorative shirts were given to committee members, donors and all participating schoolchildren. Among those gracing the occasion were founding mother Prof. Virginia (Jill) Dike; Dr. Ngozi Igwe, current Patron of UWA, and Dr. Amaka Ejikeme, UWA President.