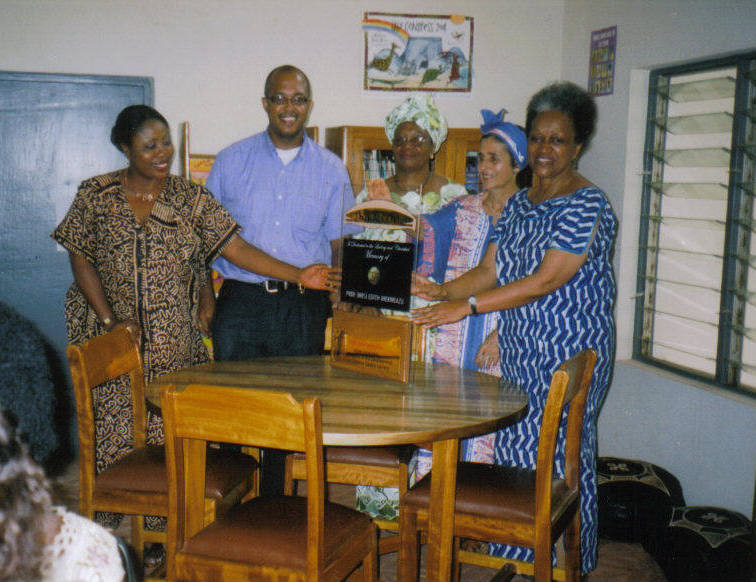 As their contribution to the Children's Centre Silver Jubilee, the children of the late Prof. (Mrs.) Edith Ihekweazu have donated an alcove for the African Children's Literature Research Collection. Chikwe Ihekweazu, Ada Ozoemena and Edozie Ihekweazu presented this in memory of their mother, who was an active contributor to the Children's Centre and strong proponent of African literature during her lifetime. The donation includes bookshelves, table and chairs, and Hausa leatherwork pouffes. The family has also undertaken to build up the collection with an annual gift for book purchases, beginning with N20,000 received from Ada Ozoemena in June 2006.
Dr. Chikwe Ihekweazu, a medical doctor now resident in England , made the presentation at a reception held during his visit to Nigeria in May 2005. During the occasion Chikwe spoke on the positive role the Children's Centre played in his generation's growing up, and members shared memories of Edith and her contributions to the project.
Edith Ihekweazu was part of the Children's Centre from the very beginning, attending the library opening in October 1978. She was foundation member of the Children's Centre Committee and Playground Committee, as well as Treasurer of UWA during the project's formative years. Edith also contributed to the academic life of the University as a scholar in languages and literature and her first Nigerian female professor.
The African Children's Literature Research Collection developed from the committee's practice of acquiring a second copy of every African children's book they could find. As a result, the library houses a valuable collection of Nigerian and other African children's books, consulted by numerous scholars and students over the years.